Philadelphia Eagles: Is Lane Johnson their greatest first round pick?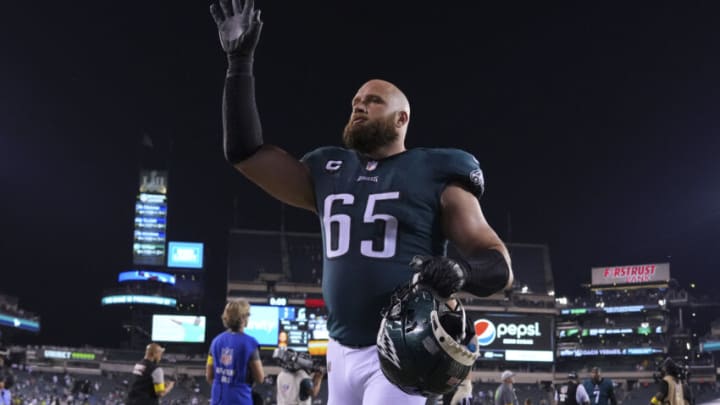 PHILADELPHIA, PA - SEPTEMBER 19: Lane Johnson #65 of the Philadelphia Eagles salutes the crowd after the game against the Minnesota Vikings at Lincoln Financial Field on September 19, 2022 in Philadelphia, Pennsylvania. (Photo by Mitchell Leff/Getty Images) /
Sometimes, you don't fully recognize greatness when you are in its midst. For a decade, the Philadelphia Eagles and their fans have been spoiled by having Lane Johnson anchor their offensive line.
As a prime example of this, look no further than Sunday night's win over the Dallas Cowboys, when Johnson easily handled all-world beast Micah Parsons. Then, Johnson unfortunately left with a concussion, leaving backup Jack Driscoll with a tough assignment. It didn't go well, underscoring just how important it is to have your big guns along the line healthy and performing at full capacity.
Lane Johnson will hopefully be back to 100% for the Eagles' next contest after a well-timed bye week, and I thought it wise to use this lull in the schedule to examine Johnson's legacy in Philadelphia. He's a Super Bowl champion, a three-time Pro Bowler, and he has an All-Pro nod to his credit. Those last two accolades seem inadequate to capture just how good he's been and continues to be; however, as he's a huge reason why Pro Football Focus ranked the Eagles' O-line as the league's best entering this year.
Still, those who know football recognize Johnson's dominance. And this domination leads me to the following question: Is Lane Johnson, selected 4th overall by the Eagles in 2013, the franchise's greatest first-round pick? As in, ever?
Lane Johnson may be the best first-round selection that the Philadelphia Eagles have ever made.
Instantly, a flood of first-round flops will come rushing into your mind as you think about the Eagles' draft history. The Mike Mamulas of the world. More recently, Jalen Reagor and Marcus Smith. And if you're getting up there in years, guys like Antone Davis and Kevin Allen might be making you queasy right now.
But let's reflect on the successes instead. Yes, Eagles fans, think positive.
We don't have to go too far back from Johnson's selection to find a home run of a first round pick, as his long-time teammate Fletcher Cox was selected the year before him. Cox honestly seemed like a future Hall of Famer before noticeably slowing down in the past few seasons, but you can't argue the fact that he was a tremendous pick at the #12 slot in 2012. It's a tight race between the two, but given Johnson's longer sustained level of elite play, he'd probably get the nod as the "better" first-round pick.
Probably the only other name from the past quarter-century who could lay claim to the title of "greatest Eagles first-rounder" is the elephant in the room, Donovan McNabb. Depending on how you feel about #5, this is a tough one. Does the fact that he didn't deliver a Super Bowl victory in his 11 years with the Eagles (and literally gagged during his only chance) ultimately negate his claim here? The guy was a borderline Hall of Famer after all, and it's extremely tough to weigh the contributions of a star quarterback against those of an offensive lineman. Still, I'd once again come down in Lane's favor here, based on how he stacks up against his own peers in a way that McNabb never did. Donovan was always considered as "good, but not one of the very best at his position". By this measure, Johnson has the edge.
We'll find some honorable mentions along the way as we browse through the Philadelphia Eagles' draft history. Heck, we've got one on the team right now, in Brandon Graham. And then there are guys like Lito Sheppard, Corey Simon, and Tra Thomas. Good players all, but not rising to the level of a Lane Johnson or Fletcher Cox. Go back far enough and you'll find Mike Quick. Again, very solid but not a franchise-altering selection. Not in the way that Lane Johnson has been for the Eagles.
One man can't do it all, and Lane has most definitely been aided by his linemates over the years such as Jason Kelce, Jason Peters, and Jordan Mailata more recently. But he has locked down a critical position, giving the Eagles the ability to focus on other areas to build the best club possible over the past nine years. At least the Chip Kelly era left us with something good, although Chip wasn't the one calling the shots at the time Johnson was drafted.
With all due respect to Hall of Famers Chuck Bednarik and Bob Brown, they were drafted in the first-round eons ago and played in a league that hardly resembles the modern NFL. The scope of this exercise needs to be limited to just the past few decades. Yes, that throws a wrench into the "greatest first-round pick EVER" conversation, but it's only fair to separate the history of this franchise and the sport of football as a whole into different segments.
With Cox and McNabb standing out as other worthy competitors, I believe that Lane Johnson does indeed stake his claim as the Philadelphia Eagles' greatest first-round draft pick. I'm also doing a little bit of projecting here, making the assumption that he can maintain this standard of play for at least two to three more years as he cements a case for Canton.
Even if you disagree with this assessment and want to make a case for one of the old-timers or another of the modern players, just don't deny the place that Lane Johnson has carved for himself in Philadelphia Eagles history. For as much time as we spend on lamenting this franchise's draft failures, it's at least worth celebrating one that they completely nailed.