Philadelphia Flyers: Strap in for salary cap purgatory beyond this year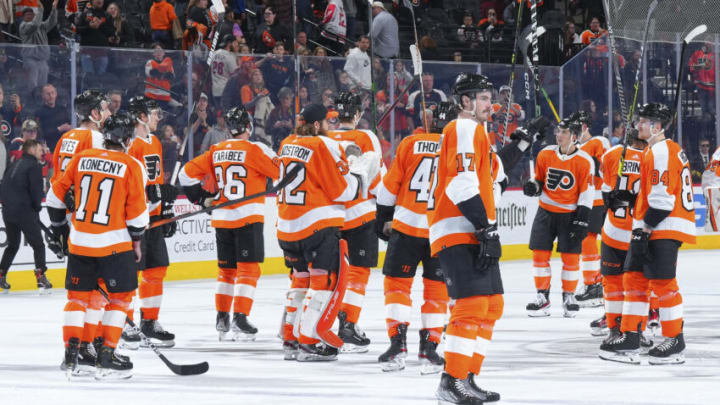 PHILADELPHIA, PA - APRIL 29: The Philadelphia Flyers salute the crowd for putting up with yet another year of garbage. (Photo by Mitchell Leff/Getty Images) /
In case you've been living under a rock, it's an understatement to say that it hasn't been a great couple of years for the Philadelphia Flyers. Notice I said "years", not "seasons", as their miserable play on the ice has carried over into one of the most befuddling offseasons that we've seen in this sports-crazed town in a long time. The worst part of it all? There may not be much relief in sight.
It's true that one can never accurately predict how the team itself will fare over the space of a few years, as some players can vastly outperform expectations or come out of nowhere to provide surplus value and carry a team to a higher level than even its most ardent fans thought possible. This might just happen for the Flyers in the near future, even if it is an overly optimistic view. One thing is for sure, though: the Flyers are not going to spend their way out of this predicament.
As Chuck Fletcher told us, his job is hard, and the fact that the team was so ill-prepared to take a run at Johnny Gaudreau really should not have surprised us as much as it did. But no matter your own personal take on whether or not the Flyers SHOULD have made a play for the local boy, a look at the team's finances as they relate to the salary cap over the next few seasons is just as off-putting as this humdrum offseason has been.
Even after next season, the Philadelphia Flyers will still have a salary cap problem on their hands.
The Flyers are tight to the cap for the upcoming 2022-23 season, but it's not like there is much relief in sight beyond that. Even with James van Riemsdyk's $7 million average annual value (AAV) coming off the books next summer to provide the illusion of some breathing room, there are sad realities to behold here.
First, there are several bad contracts that go well beyond next summer.
Kevin Hayes may return some value for the Flyers while acting as a good "locker room presence" sort of guy, but his contract remains a hindrance for the club. Moving into his 30s and making over $7 million a year through 2025-26, this might qualify as an albatross already. To be clear, it's not Hayes' fault that the team's younger, less expensive players have largely failed to reach expected production levels to take some of the sting out of his cap hit, but this was an overpay that will still haunt the team for years.
Rasmus Ristolainen is under contract one year longer than Hayes, with his $5.1 million salary largely regarded as a joke around the league. And while Ristolainen hasn't been terrible, Fletcher's decision to retain him rather than trading him for assets at last season's deadline looks like yet another mistake that will define his tenure as GM.
Running the same length as Ristolainen's deal, the Ryan Ellis contract is an absolute monstrosity that will go down in the annals of Philadelphia sports history. Everyone knows the story with this by now, as Ellis seems like he'll be a punchline in this town, through no real fault of his own, for the foreseeable future.
And poor Sean Couturier. The longest-tenured Flyer hasn't even played a game yet under the 8-year extension he signed last year. But because of the time he spent injured last season (out of sight, out of mind) and the general misery surrounding the team, people can't seem to wait to get him out of town. How quickly we forget that he was a borderline elite player the last time he was healthy. But that's just the way it goes with this franchise anymore.
Even when we look at Scott Laughton, the contract isn't awful, coming in at $3 million AAV through 2025-26. As is the case with Hayes, though, are his intangibles really that valuable? He does everything decently on the ice, but it doesn't move the needle on a club like this, one lacking in high-end talent. If they had traded Laughton over a year ago, something I advocated for, they could have collected a few assets and saved some cap room (although they probably would have just wasted it anyway).
Even if their future cap situation isn't the kind of 'H-E-double hockey sticks' that the Flyers have gotten themselves into before, a la the Andrew MacDonald contract, it's purgatory at best. Because even when you take JVR's contract off the books next year, that money goes right back onto your ledger, partially because of the raises that will be presumably be due to youngsters like Cam York and Morgan Frost, but primarily due to the elephant in the room, a new contract for Travis Sanheim. Or perhaps the Flyers actually deal Sanheim in advance of this year's deadline, which might be the only feasible way to open up some cap space in the years ahead. Maybe Ivan Provorov is the player who gets dealt in his place, but it remains to be seen which way the organization leans.
The Flyers aren't alone in the need to give raises to some actually worthwhile players in order to retain them over the next few years, and they're operating under the same salary restrictions as the rest of the league, with everyone hoping the salary cap ceiling drives up substantially in the near future after remaining essentially stagnant since Covid. But long-term, big-dollar commitments, not to mention nonsense like four-year contracts for the likes of Nicolas Deslauriers, might put the Flyers behind the 8 ball for years to come. And it's looking like yet another new front office will be cleaning up the mess of the previous one.