The Philadelphia 76ers get bad news on Steph Curry's return
After two underwhelming showings in Los Angeles, the Philadelphia 76ers' road home just got a little tougher with the untimely return of Steph Curry.
The Philadelphia 76ers aren't having the best go of things as of late.
Sure, Shake Milton's emergence as a three-level scorer has helped to soften the blow of a week without Joel Embiid and Ben Simmons, but even his on-court heroics couldn't help the team exit the last four games with a winning record.
Heck, unless the Sixers can figure out a way to reverse their fate and reverse it quick, Philly could have a one-way ticket to a sixth seed when the playoffs mercifully roll around.
Not quite what fans in the 215 had in mind when the season opened up back in October, by any stretch of the imagination.
And I hate to be the one to tell you this – that is, unless you have Shams Charania's tweets on notification – but the road back to Philly just got a little bit tougher.
After breaking his hand all the way back in October, Steph Curry will return to the court for the Golden State Warriors on Thursday for a home bout against the Toronto Raptors at the Chase Center in San Francisco.
Why does this matter for the Philadelphia 76ers? Easy, the Sixers are scheduled to finish out their West Coast road trip with an ABC televised primetime contest against the Warriors.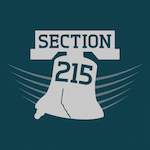 While the Sixers are still probably the better team overall, as the Warriors started the, um, unique quintet of Mychal Mulder, Juan Toscano-Anderson, Damion Lee, Andrew Wiggins, and Marquese Chriss in a very improbable win over the Denver Nuggets, Curry's return could create issues for a team missing their two best players.
Heck, if Draymond Green is also able to return for Steve Kerr's squad and Josh Richardson remains out with a concussion, the Sixers may have some real trouble pulling out a win against the NBA's worst squad in front of a national audience.
Now to their credit, Brett Brown's squad does have one more game before their showdown with the Warriors, against a Sacramento Kings squad with a losing record at home no less. Maybe they can build on the positive on-court developments from Los Angeles and put together a more defined identity at both ends of the court. But if they can't thwart the Kings, the Philadelphia 76ers may struggle to steal a single win without Joel Embiid on the road and could sink even further in the standings. Not a great way to start the month of March.