Kyle Lowry gives Villanova basketball fans reason to enjoy NBA Finals
Villanova basketball fans will be excited to watch Kyle Lowry in action during his first NBA Finals appearance on Thursday.
It seems like only yesterday that Kyle Lowry was leading the way for the Villanova basketball team, as the former Wildcats guard has come a long way in the NBA since leaving school in 2006.
Thanks to a successful career at Villanova, Lowry would end up being selected in the first round of the 2006 NBA Draft by the Memphis Grizzlies with the hope of becoming the team's next big thing at point guard.
Unfortunately, Lowry's transition to the NBA wasn't all that smooth at first after a broken wrist limited him to appearing in just 10 games for the Grizzlies as a rookie before the team ended up trading the guard to the Houston Rockets later on down the road in 2009.
At the time, Lowry's immaturity seemed like it played somewhat of a role in the decision by Memphis to move on, but also what teams in professional sports haven't dealt with this issue at some point?
A few years later, Lowry was traded yet again to the Toronto Raptors in the summer of 2012, but this time it clearly has worked out for the best when looking at how strong of a contender the team has become over the years.
Most importantly, the Raptors will be making their NBA Finals debut on Thursday night when they take on the Golden State Warriors in what should be another thrilling series.
Philadelphia 76ers fans may not be excited over the thought of Lowry and the Raptors playing in the NBA Finals since this year seemed like it was going to finally be there time, but also it's difficult not to root for someone with a strong connection to the City of Brotherly Love.
Kawhi Leonard has received most of the attention for the success behind the team in the playoffs, but no one, especially Villanova fans, would be surprised if Lowry ended up coming through in a big way to give Toronto a fighting chance against the defending champions.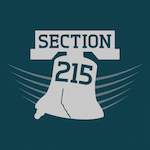 The Warriors certainly aren't going to make it easy, but after everything Lowry has been through over the years to be in this position, he's going to do whatever it takes to make sure he doesn't let fans down, whether they happen to be Raptors or Wildcats.