Le'Veon Bell teases Eagles fans over potential interest with Twitter response
Le'Veon Bell appears to be having some fun on Twitter with Philadelphia Eagles fans over potentially joining the team in 2019.
Since it became clear last season that it was only a matter of time before Le'Veon Bell ended up on a new team, the Philadelphia Eagles were always considered a potential landing spot as a result of their need at help in the ground game.
Between the team facing a tough decision in free agency with Jay Ajayi along with the possibility of Darren Sproles retiring like the veteran originally planned, the Eagles could be looking to free agency or the draft to add another skilled player at running back.
Now that Bell will officially be hitting free agency following the recent announcement by the Pittsburgh Steelers in which they claimed the running back wouldn't receive any sort of tag, the speculation has already gotten underway over who his next team could be.
Despite holding out all of last year in the hope of landing a new contract, Bell knows receiving the hefty contract he desperately desires is going to be far from easy since most teams will point out the concerns over being away from the NFL for an entire season.
As for the Eagles, it's tough to imagine the team not being interested in the possibility of Bell since his ability as a runner and receiver would make him an intriguing option on offense. And while the team hasn't confirmed any actual interest in Bell at the moment, this didn't stop him from having a little fun responding to fans on Twitter Saturday night over the thought of this happening.
Obviously, one response on Twitter doesn't guarantee this move is likely to happen since it's only February and the start of free agency doesn't even get underway into the middle of next month, but it's still sending some Eagles fans into a frenzy.
Bell still has a long way to go when it comes to proving one year away from football won't prevent him returning to his usual ways as one of the league's most dangerous running backs, and as previously mentioned with Philadelphia, the last thing they want is to overpay the running back.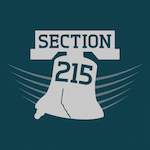 For now, the Eagles and their fans simply just have to be a little more patient to see whether this Twitter message from Bell ends up being meaningful or it's simply just the running back having his fun on social media by forcing everyone to draw assumptions over his potential landing spot.