Philadelphia Union: Winning Without a Superstar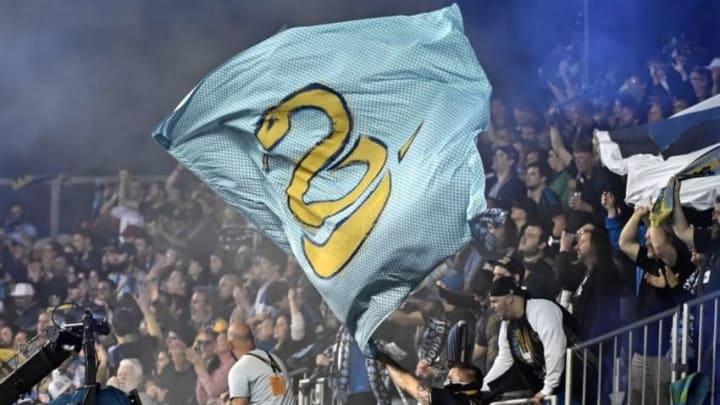 Credit: Eric Hartline-USA TODAY Sports /
Professional soccer in North America has seen a wave of big name superstars enter the league. While many teams have pulled out the checkbook in hopes of attracting the games most sought after players, the Philadelphia Union are fighting resiliently, playing with passion and producing results in their own way.
The growth of Major League Soccer as a whole has brought about more and more marquee signings into the league; giving clubs new heroes to build a successful franchise around in a relatively untapped market.
While big name squads possess the allure to attract high-level talent and satisfy their financial needs, other teams are left to simply find another way to compete, build, and win. The Philadelphia Union, by all accounts, has found a way to do just that and stand alone at the top of the Eastern Conference without the presence of a renowned superstar.
When you look at this squad on paper, there's nothing eye-popping about them. The Philadelphia Union haven't shelled out millions for a single name that'll increase ticket sales like Orlando and New York City in their inaugural campaigns last year.
Philadelphia Union /
They aren't a hot spot for talent with the appeal and financial freedom of Los Angeles or chomping at the bit to sign America's top stars as seen in Seattle, Toronto, and Colorado. In fact, the arguably best player on Philadelphia's roster, Maurice Edu, hasn't played a single minute for the Blue and Gold this season as he recovers from a stress fracture in his leg.
Now take a quick glance at the standings in the East and ask yourself "How are they all the way up there?"
Be Clean, Be Creative
What a difference a year makes, the resounding difference in this squad from the 2015 season is movement with purpose down the field and the ability to create chances at any time from any part of the field. Midfielders Vincent Nogueira and Tranquillo Barnetta are distributing balls through the middle and down the line with precision and quality providing significant increases in possession with fewer turnovers that have plagued the Philadelphia Union over the years.
Help is being provided from the back with Fabinho and Ken Tribbett creating chances from the wing, enabling counter attacks from clearances and leaving more attackers to get into position. Philadelphia's longest-tenured player Sebastien Le Toux has shown no sign of slowing down and remains the heart and soul of this franchise.
He scored his 50th career goal for the Union this season and has been a catalyst for the surge of success from forward C.J. Sapong, who has more goals in 2016 then 2-time MLS MVP Robbie Keane and European Cup champion Didier Drogba who are both still performing at an extremely high level for the respective teams.
This team has shown consistent stretches of brilliance and sharpness in attacking and high pressing without the ball that has created a number of problems for teams who have outplayed the Union in most aspects of the game.
The league has been left to scratch their heads at the idea of Philadelphia being this strong when the likes of Kaka, David Villa, Kei Kamara and reigning MVP Sebastian Giovinco are all fighting for position within the Eastern Conference. While the product may not be perfect and the season remains up for grabs, this team is not afraid of anyone that gets in its way.
Using the Youth
We've seen a number of bright stars emerge from the collegiate level here in the United States. That in mind, most analysts view the MLS Draft as an entry point with a lower ceiling of potential than opting to sign professionally as young American sensation Jordan Morris opted to do this year.
He was deemed "too good" to be drafted and decided to choose his own fate by signing a professional contract with the Seattle Sounders. In this day and age, the players that see the most game time are ones who are signed from other clubs for a transfer fee. The Philadelphia Union have used the draft to develop young talent within their squad and have produced excellent results over the past three years.
More from Philadelphia Union
Andre Blake and Richie Marquez were drafted by the Philadelphia Union in 2014 and have secured their starting positions through hard work and patience. Joshua Yaro and Fabian Herbers have had immediate impacts in their current rookie campaign, alternating game time between the senior squad and the Philadelphia Union's USL affiliate team, Bethlehem Steel FC.
Oh, and let's not forget the young man slowly but assertively rising up the ranks of this year's rookie class, Keegan Rosenberry. Hailed by some as one of the most polished defenders to ever come out of the SuperDraft, the young Georgetown product is turning heads throughout the league and may very well be on his way to Rookie of the Year honors should he keep up his current level of play. It's safe to say that the Philadelphia Union have utilized their young players better than most teams in Major League Soccer and it has set up the foundation for these talented young men to grow and succeed alongside each other for years to come.
Philadelphia Union /
"The Big Earn"
It's true, the players are the ones yielding these fantastic results for the Philadelphia Union. But who is the one responsible for bringing that talent together onto one team? Earnie Stewart, Philadelphia's newly appointed Sporting Director (GM), has completely changed the look of this team from last year.
During the offseason, it looked as though we weren't going to have enough players for a starting 11 to take the field. Yet the man at the head of the table sat back and played Moneyball like a true professional, just as he did in his years for the Dutch team AZ Alkmaar. His signings have proven to be cost effective, fit for the culture in Philadelphia and most importantly, have had an impact from day one.
Philadelphia Union /
Roland Alberg brings pace and versatility which add another dimension to the squad having played in Stewart's youth system in the Netherlands. Brazilian midfielder Ilsinho is a technical wizard with experience at the highest pedigree of Europe's top leagues. When cleared to play at 100%, you can bet you'll be hearing his name called many times in Talen Energy Stadium.
Then there's Chris Pontius (no, not Johnny Knoxville's friend) who's already tallied 4 goals and 2 assists in only 10 games for the Philadelphia Union so far this year. Acquired from DC United at reasonable terms due to injury plagues, Pontius has immediately clicked into his role both as a high-quality player and fan favorite in his brief time with the team. Make no mistake, Earnie Stewart is paramount to this team's overall success and can sit back comfortably knowing this is only the beginning for this organization.
When rumors began going around linking one of Europe's most elite strikers Zlatan Ibrahimovic to the Union, it left me to wonder whether or not we even need a player of that caliber on this squad to succeed. Don't get me wrong, if he signs here I will be the first in line at the airport to welcome him to the United States. Sure it's possible, anything is possible in this wide open league. But while the level of talent has certainly increased from year to year within Major League Soccer, it is no guarantee that these million-dollar men are an instant recipe for success.
Quality comes with a price, and if there's a star in the market that fits into the culture developing here in Philadelphia, don't count the Union out of grabbing their checkbook and turning some heads across the league. With that in mind, enjoy the soccer you are witnessing from this team right now.
Next: Michael Lahoud Recalled from Loan
The Philadelphia Union has embraced the toughness of competing for a Philly sports team and developed chemistry and rhythm on and off the field that's translated into the highest points per game average currently in the eastern conference. Most importantly, they are playing with the swagger and pedigree of an organization that has set itself up to only go upwards from here on, and that is what makes a team a contender instead of a team with a superstar.