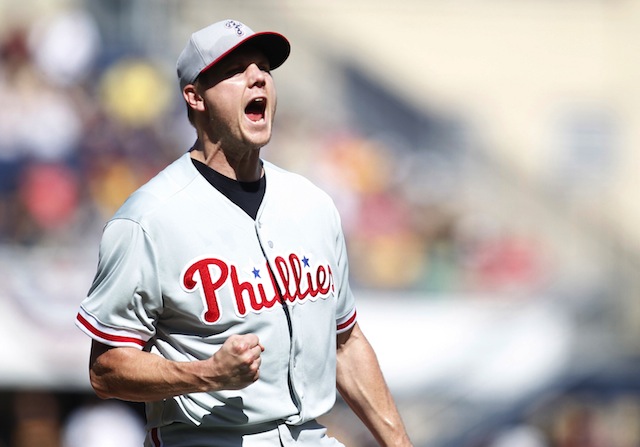 Jonathan Papelbon's remaining two years and $26 million on his contract is the biggest reason that most in the business don't expect Papelbon to be traded, despite reports that the Phillies are floating his name out at the MLB winter meetings.
Today CBS Sports's Jon Heyman spoke with a "rival executive", who explained what he thought that the Phillies would have to do to move Papelbon.
rival exec guesses philly would have to pay "40-50 percent" of papelbon $13M salary to be rid of him … If anyone bites

— Jon Heyman (@JonHeymanCBS) December 11, 2013
Even if the Phillies were willing to take on say, six or seven million of Papelbon's salary over the next two seasons, there's no guarantee that a team would want to bring Papelbon's ego into their locker room. He may have struggled in 2013, but make no mistake, the Phillies have him on the market because they don't want him to continue to bring a negative culture to the clubhouse.
I think eating the "40-50 percent" and looking to sign another closer (even if that ends up costing more than Papelbon would have), would be a smart route to go. Not only is Papelbon an ego, but he blew seven saves last season and has declining fastball velocity, so he really didn't produce worth his ego. A free-agent option like Joaquin Benoit or Grant Balfour might make sense for the Phillies, than keeping Papelbon in the fold.