As Sam Hinkie and Sixers management ponders what to do with the number 11 pick in tonight's NBA draft, let's revisit the last time that the Sixers owned the number one overall pick. The year was 1996, and the Sixers took a young and rather undersized point-guard from Georgetown University by the name of Allen Iverson.
At the time of the draft, Iverson's scouting report read as follows.
Strengths: Excellent Speed
Great Court Vision
Weaknesses:Sometimes erratic play
Shoots first and passes second
The Scouting report went on to be pretty accurate. Iverson certainly is one of the fastest guards that the NBA has ever seen, and his vision was incredible. The problem from his original scouting report is that his two weaknesses may have turned into positives that defined him as a player. Sure Iverson at times was erratic, but when someone says Iverson as at times erratic, I think of the plays where Iverson defended three guys in one possession before finally forcing a turnover. Iverson being erratic at times defensively made him exciting. And offensively yeah Iverson did shoot first and pass second, but considering the team that Billy King and Ed Snider never surrounded him with that was a positive. It also didn't hurt that Iverson became one of the greatest volume scorers in NBA history.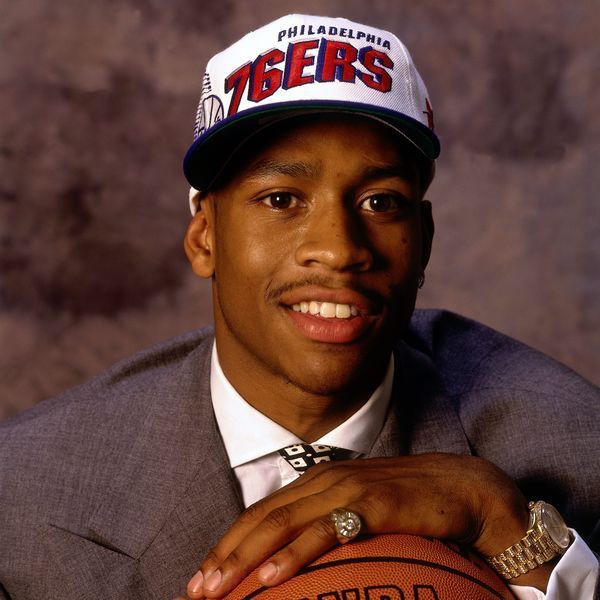 You can make a case that the Sixers would have been better off making another selection at the number one spot looking back. In addition to Iverson, the 1996 NBA draft also featured future hall-of-famers Ray Allen, Steve Nash, and Kobe Bryant. I think from a Sixers perspective Iverson made more sense than Allen or Nash. Nash didn't hit his peak until being in the league for nearly 10 seasons and while he had more longevity in the league than Iverson, there isn't a chance in the world he would have taken the 2001 Sixers to the NBA finals playing the style that made him a two-time NBA MVP. Allen may go down as the greatest three point shooter in NBA history, but with the team Iverson was surrounded with, Allen would have been blanketed by opposing defenses at the three point line. And then there is Kobe. Bryant in my mind will go down as one of the top ten or 15 greatest players that the game has ever seen, and top five shooting guards of all-time when it is all said and done. Kobe was from Philly. There isn't any question that Kobe had the greatest career by anyone drafted in this class, but playing with Shaq in his prime didn't hurt that. While Kobe has one of the best legacies of anyone to ever step on an NBA court, Iverson did some incredible things in a Sixers uniform, and is in elite company as one of the top five Sixers to ever play. I think that Iverson was the best pick for the Sixers, and Kobe as the greatest overall player selected in the NBA draft.
Tags: Allen Iverson Child Support Allen Iverson Drafted By The Sixers Allen Iverson Number One Overall Pick Allen Iverson Sixers Allen Iverson Vs Kobe Bryant